So Relay for Life was this weekend and we had a blast!! My team, the Luke Enlisted Spouse Club raised over $3000.00, since our last event in April with Relay we as a team have raised almost $10,000.00 not to bad for a small group of enlisted AF wives and friends!!!!
I am just still exhausted, every muscle in my body protest every time I move, I seriously think they hate me!!!
The event was fun, we won best camp site, we had a country theme tent, all I know is I never ever want to see another haybale for a really really long time, we had to make sure we got up all the stray hay that wondered onto the field/track, and then we really didn't have anyone to help us move the hay from the field ot get it loaded back up to take away, now each haybale is 100# and we had four of them, so me and another one of the girls, dragged those suckers on the tarp across the track,while about 100 Army guys were getting ready to do a PT test and watched us, did they offer to help , no way!!! Think that is why my muscle scream every time I move.
Here is our camp site..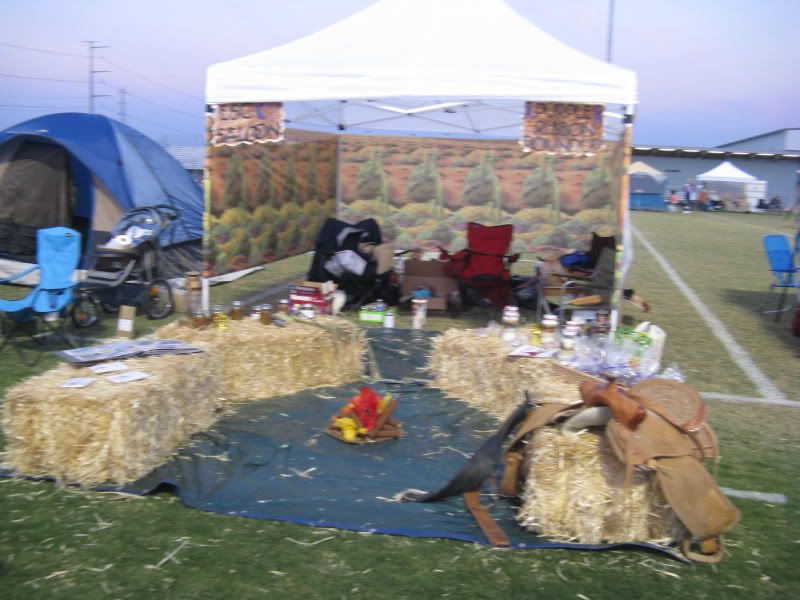 Here is the Luminaria bag I made for one of my favorites mom who passed away. The luminaria ceremony is a very moving touching need tissues time, the bags we all make get a small candle put in them, then they line the track, at a certain point of the night all the lights are turned off and only the candles are lite, they do a video with pictures that we have given them to music then we all nake a silent lap around the track in honor/memory of our loved ones and friends who has beat the horrible disease or who have gained there wings.... I bawl like a baby every time.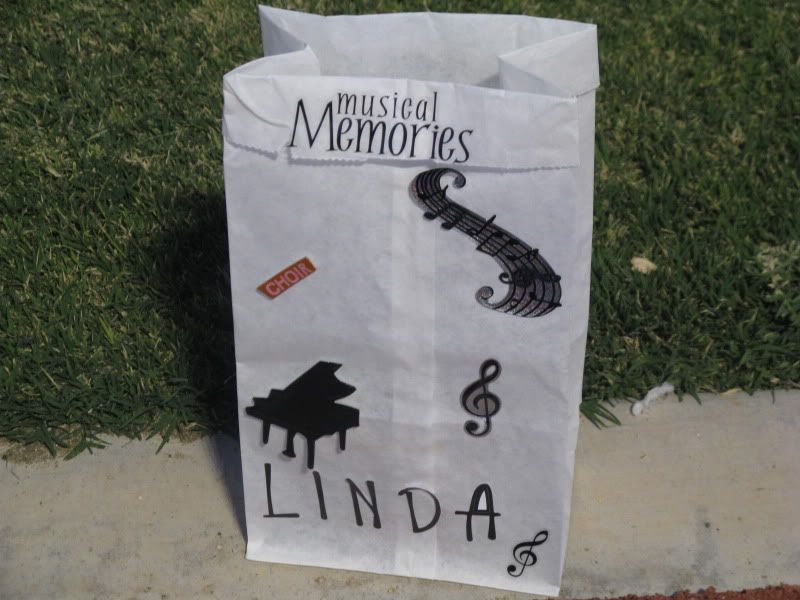 Miss-ter relay is hte most hilerous part of the night, you get one guy from your team to dress up like a female , they walk around the track and get money in their pocketbooks, then they geton stage and do a fashion show. The one with the most money at the end wins Miss-ter Relay and gets a prize...
This kid was funny and wasn't even on our team, but he took a seat on our saddle and almost showed us more than we wanted to see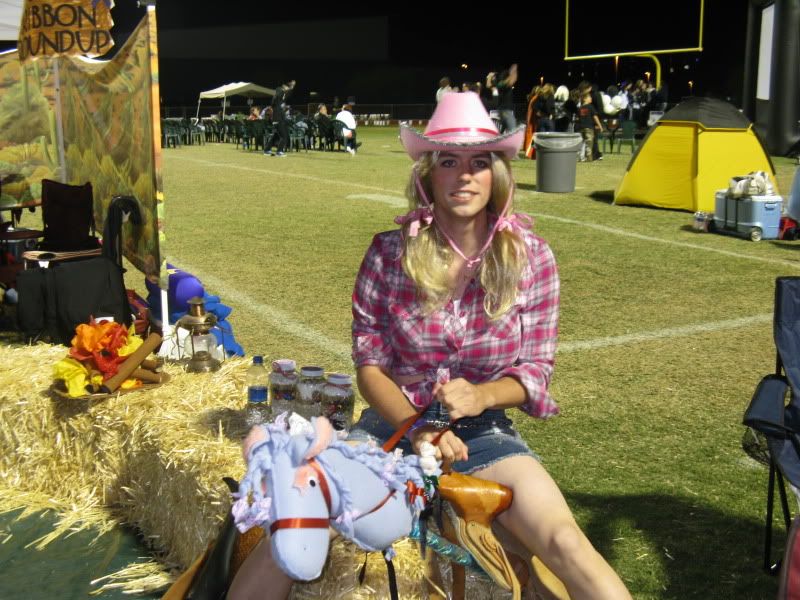 This was the winner of the night LOL.. he was too funny, and we think they have too much spare time at the Fire house, cause he was way too good for this part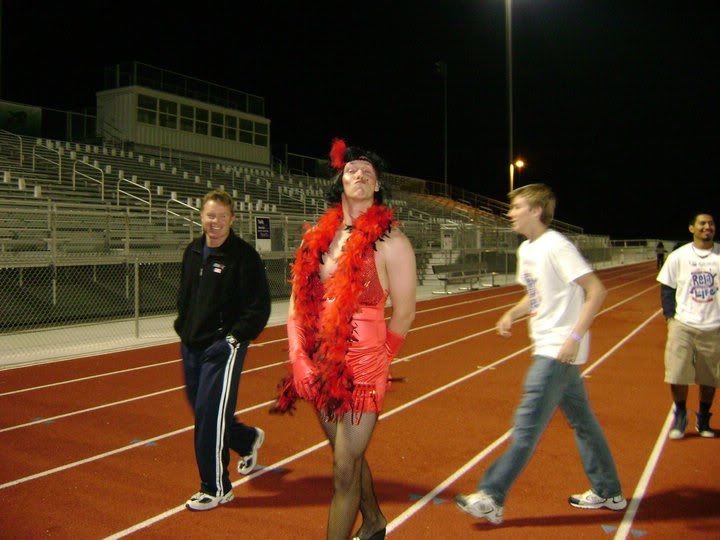 and my whole team.... we were exhausted, sore, cold but we had a blast and raised alot of money and we get to start all over again for the next one in April.... so if ya wanna support me by donating, let me know and I will send you the link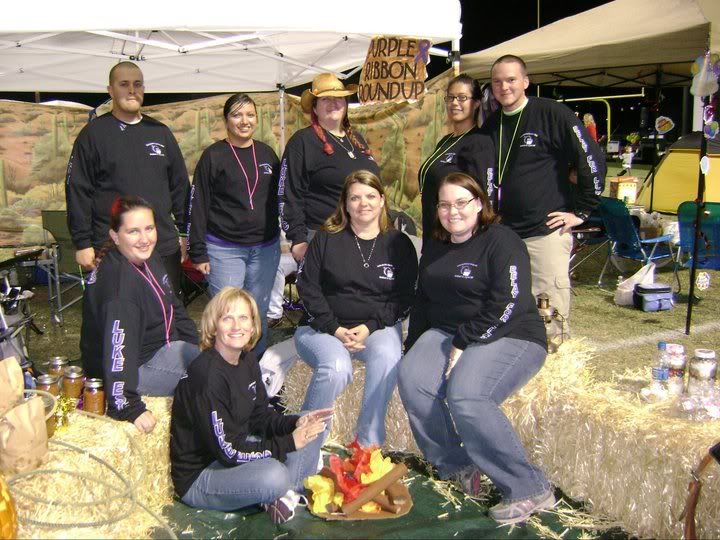 What what, I am updating... don't be shocked, I am seriously going to try better... I know I know I have said that a gazillion times, but I can access OD at work now... so will be able to update more.... I hope...


We was just notified of this today at work, They have not yet released the name of the Pilot but he is part of our MIlitary family...

Please send your prayers to there family, it is a horrible tragedy...

God Bless them all

Girl who fell at Grand Canyon from Litchfield Park

Kimberly Dedes and Elias Arnold

The Arizona Republic

Oct. 10, 2007 12:20 PM

A 4-year-old girl who died Tuesday when she fell about 450 feet below the rim of the Grand Canyon was the daughter of a pilot stationed at Luke Air Force Base, base spokesman Lt. Bryan Bouchard said.

The family lives in Litchfield Park in the Southwest Valley, according to Maureen Oltrogge, spokeswoman for Grand Canyon National Park. Their names have not been released yet.

The girl is believed to be the youngest person to die at the canyon from a fall

The incident occurred at 11:30 a.m. Tuesday just west of Mather Point, the most popular scenic viewing area in the park. The area was crowded at the time. No railing blocks that portion of the canyon's edge.

After the girl fell, her father rushed down the rim to reach his daughter and begin CPR before medical crews arrived, the U.S. Forest Service reported. The girl was pronounced dead on the scene.

The father suffered an ankle injury while trying to reach his daughter and was taken out by forest officials.

This is the second death sustained from a fall at the Grand Canyon this year, according to Oltrogge. She said she had never heard of such a young child dying from a fall at the canyon before.

The south entrance road along Mather Point was briefly closed following Tuesday morning's incident. National Park Service rangers are conducting an investigation.
Hey all,


well I guess last time I updated we had just moved, spent our anni at a real nice resort here in town ...

7-30-07 see told ya...........

well since then.. lets see...

Well I guess it is time for my update... sorry I have been so scare

we just have been so busy with moving on base, working, doing all the Enlisted Spouse stuff and it is just so damn hot here..

Chris is driving me absolutly insane..... about 2 weeks ago he realized his bank card was gone, went ot the bank the enxt day and almost 800 had been taking out of his acccount... well the honest kid that he is... which is a good thing and bad... but he is still an idiot.... he told them that the day before he went throughan ATM with one of his hoodlum buddies and had them do the drive up atm and gave his bank card and atm number to them... well guess what that friend probably is hte one that took the money , but he left the damn state... Chris told the bank all this so they won't give him back his money....

Oh did I mention also that one of his new best friends is THE BASE WING COMMANDERS SON!!!!! and he has been spending the night AT HIS HOUSE?????????? For those non mlitary peeps.. the being commander is the main man on the whole base...

Seth is good freaking out because the new school he has to go to he has to wear uniforms... no biggie except the ones the BX sells in UNISEX..Harveys says heh aint going with me when we take seth school shopping... also one of the teachers that chris had when he went to kindergarten is still there as is the secretarty.. she remebered us whne we walked in today to register Seth...

work sucks..... they are renewing contracts for our docs right now, so for the time being we ( the 4 of us techs) are being shuffled here and there every other day... the Major is pissed off to the max..... we did meet a new perspective doc though... he's a magician also... and wears black socks with brown sandles and pink shirts... it was a lovely first impression.. thought we all were going to piss ourselves laughing after he left... did I mention he looked like carrot top???

Oh wait forgot the best part........ dum dum dum dum... EVIL SKANKY ONE IS PREGGO!!!!!! gag already... barf too
well it has been awhile, I do get on here everyday, I go to update and something happens.. plus it is really hard to update when you have someone hoovering (huvering?) (how ever the heck you spell it)around you, seems like I never get "alone" time anymore.. I can get on this site at work, but it is even harder to update there as I don't have a " private" area there either... anyways...
We have moved!!! We decided that it would bemuch better for us right now if we moved on base so we did.... we got lucky and got one of the brand new houses.... it is nice, we lost a bedroom by moving on base, but the storage room makes up for it.....
so right now we are trying to get all of our crap put away... which comes to the ass sucking part.. I am sicker than a damn dog, my face hurts, my chest hurts, I sound like a freakin seal when I cough, my throat hurts... I actually jsut want to curl up and sleep for the next week but no suck luck as I still have the old house to clean, put all this crap away and I go back to work tomorrow... ughhhh some times I hate being an adult..
Will post pics of the new house once we get all the shit put away
on to other news......Saturday was my 20 the wedding anniversary... can't beleive I have been married for 20 years.... we have been through a lot of crap that I didn't think we would survive, esp the evil skanky one... she made life pretty miserable, but we survived it.. all 20 looooooong years
We left Saturday after noon and checked into this hotel
http://www.marriott.com/hotels/travel/phxtm-the-buttes-a-marriott-resort/
It is a craved into the mountain side, has hidden jacuzzis ,the rooms was huge and had the most comfortables bed ever......
We went to one of the casinos that was near by but it was packed and I couldn't breath because of all the smoke in there so we only stayed about 30 min and hubby wasted 60 bucks ,went to dinner after that at Outback and yummmm, had something to drink called a Wallaby Darned... OMG it tasted so good, had peach schnapps, champange, and peaches in it.....
after that we headed to the hotel and hung out in the pool, messing around and having fun, they had a live band playing in the bar called Taquilla on the Rocks... DH teased me as it was just up my alley as Taquilla is my drink of choice... had a few more drinks there and then headed back to the room and off to the seculeded jacuzzis...
then did some shopping at Ikea yesterday....
all in all it was a great one.. still can't believe we have been married for 20 years.....
well I need to get my sick ass back to unpacking.......
Suprise Suprise!!!!! I posted... bet ya'll thought I had fallen of fthe earth huh???


The only way my butt is gonnas be at a race is if it is nestled up in the bleachers...

I have never seen so many rude, stupid , drunk people in my life.....

We started out at 11:00 and had to punch tickets for folks to get into the corporate village.. they had different companys there that catered to folks who had special tickets... say worked for Home Depot and some how got one of those tickets... the had a place for you to eat, drink, relax get free stuff before the race and have pit tours etc....

I can't beleive the people that tried to lie and push there way in.... I did that for a bit, but I had ummmm a wee bit of a hang over so I went and made one of the airmen trade me and did the information booth.. gotta love being the bosses wife... :teehee:

well that wasn't to bad until we had to do fench duty:madsm: that was when at about lap 120 I become pissy and not likeing people at all esp drunk people... I had to get the Sherriff twice, had some guy try to grab my boob, pissed folks off when we had then get off the fence or the stairs, had dirt in my bra and in my hair..... every time there was a caution I wasn't to happy....:hit:just wanted the stupid race to be over..

and the part that got me, was DH got a 20 tip from some guy because he was in the miltary.. we had shirts on that said Luke AFB ammo. So the guy shook his hand said thank you for doing what you do and gave him the money.. I got my boobed grabbed and DH got the 20 bucks...:threat:

we didn't even get to go to the race on FRiday night becasue DH had to work, but I do feel god about it though because we gave them to a young airmen and his wife and they had never been before and they said that they had a blast and can't wait to go again ..

in November my rear will be planted in the grandstand
Yesterday we did a fund raiser for DH squadron at the nascar race. I love Nascar and thought it would be so muchg fun.. yeah right sure it was.... Let me tell you I don't care how much money the shop makes I will never ever do that again...
We bought a new couch on Sunday... we have been looking for awhile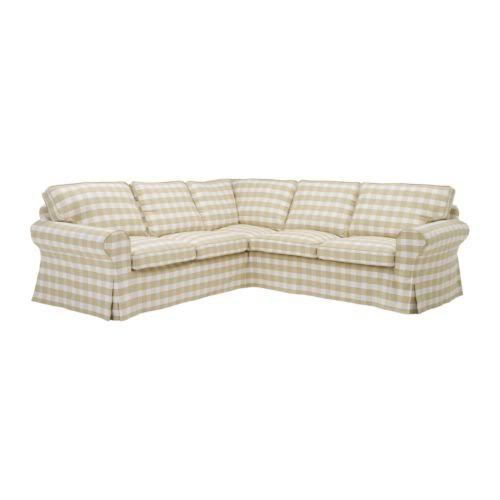 this is a picture ofit, but in a different print.. we got it at Ikea.. it is cool cause you can tke off the cover and wash it, or for I think it was 150 bucks more you can buy a different one and have a whole different look to your sofa..
Seth had another EEG done today, he was only allowed to sleep for 4 hours last night, we had to be up at 4 am... I am beat.. his appt was at 10:00 at Phoenix childrens , but he had to get there at 9 .. glad I left the house at 7am cause the highways were backed up for ever.. I htink there was 2 accidents.. I fionally got off and went the normal roads and it was backed up too.. early morning traffic in this town sucks.... thats whay I hate the big city life... I want my small towns back..
we have ascrimmage baseball game tonight... hopefully he is rested enough so he won't be to tired to play tonight.. I know I would rather climb into bed early...
well gotta go swap the laundry around... blah.......
Wow!!! It is only Tuesday and it has been a long week already.... This week is "Air Force Week" so every inch of the base is crawling with "top people" work has been crazy.... tomorrow we have the Surgeon general of the Air Force visiting... and of course our clinic since it is new is the only one he is touring... yeepee skippee... and I am sicker than a dog so I really don't feel like smooshing (sp?) anyone... The Air Show is this weekend too so the base is gonna be crazy.... this is when I am glad we don't live on base... DH is working nights this week though..


ask me anything in the following categories...

1. Friends

2. Family

3. Sex

4. Music

5. Drugs

6. Love

7. Religion

8. Miscellaneous
ok everyone else is doing so what the heck


Not alot going on... I get up , go to work, come home, make dinner, clean, go to bed and repeat the same the next day.... Guess I can say my life is boring as hell....

I dunno just seems likeI have been in a funk since this move.. wehave been here almost 8 months already and I just don't feel "settled".. yeah we have old friends here, the extended family is close, I have a awesome job... but I miss my life in NC... I want that life back.. I want our old house back...

ok sorry got off on a rant need to hurry this up my battery is about ready to die...need to go plug the laptop back in
thanks for all the nudging and what not.. I am here.... being a lurker mostly... haven't really flet into the whole blogging thing.. I even let this go to a free account.. not that I could figure out how to do half the stuff on here anyways...


ya'll won't believe the package we got...... a girl on local AF wife group I am on sold me.......... for $70.00 ( yeah I know we stole it from her but they got it free for buying a truck)


2 tickets to the busch race......

2 tickets to the Cup race

both days are great seats!!!!


2 wristbands which gets us into the the race club and we will get to meet Martin Truex and hopefully others.... hopefully Dale Jr and Harvick........ pant pant

Competitor parking pass ( way up front)

free food all weekend

but the best part... IS A HOTLAP with one of the drivers..... ( DH and I are fighting over that one, I told him he flew in a F-15 I should get the race car)


Oh yeah and smash mouth is playing in concert on Sunday there.... not a great fan of theirs but I like the song from Shrek LOL
I won't be around much this weekend.... we have tickets to the the race both days....


I THINK I PASSED THE STONE!!! and the stupid thing was teeny tiny.. It sure felt like it was golf ball though.. I figured that it was the stone as my urine had been a trickle then all of a sudden it gushed out...

hoping there arn't anymore in there.... I can't do this again no way nahuh

ok now that I have throughly grossed you all out with my urine output back to your reguarly broadcasted program...
Doing a happy dance.... well kinda sorta can barely move but inside I am doing a happy dance.